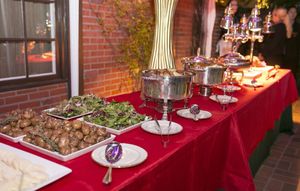 Welcome
At The Kitchen Guru Catering Company, we're committed to delicious and beautiful food, exemplary turnkey service, and client-focused flexibility. Founded in 2018 by Owner and Executive Chef Corey Coleman, we're firmly focused on our clients' unique desires. We serve seasonally-inspired, regionally-sourced menus that represent cuisines spanning the globe. Our close partnerships with local vendors and venues allow us to effortlessly showcase the best our area has to offer.

We pride ourselves on our ability to maximize the level of quality of events of any size and budget.
Special EVent | Get Your Ticket Today!
We are a full serviced catering company that strives for excellence. We offer a wide variety of food that is always perfect in every detail. We cater all types of social events, which include breakfast, brunch, lunch, dinners, cocktail parties and buffets. We always use fresh never frozen ingredients. As specialists in off-site catering, we can accommodate any size and type of event. Our wide selection of homemade specialty menus can be tailored to fit anyone's special diet restrictions and budgets. If you're looking for creative cuisine, exquisite presentation and exceptional service then you've come to the right place. It's your event don't settle for less.